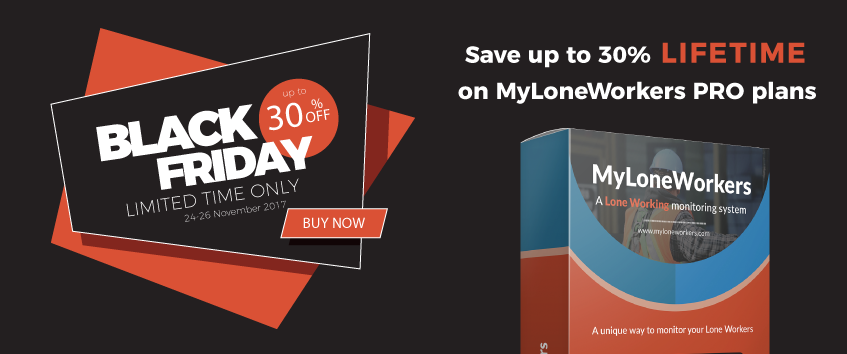 Written by
atagkas
22 Nov
Category:
Yes, it is a unique chance to buy any MyLoneWorkers PRO Plan with a lifetime discount up to 30%!
We are announcing this big Black Friday deal for both new users and existing clients who would like to upgrade to a MyLoneWorkers PRO plan now and get advantage of the FULL PRO functionality of the software!
What will you get
For MyLoneWorkers users, upgrading to a PRO Plan is crucial, offering a bunch of advanced features, such as:
MyLoneWorkers M.A.R.S. application, to enable mobile monitoring and management just from anywhere
MyLoneWorkers PTT application so as to help Lone Workers interact immediately with each other, reducing communication costs
Man Down Functionality, to automate officers' protection under urgent situations
API interface, to connect MyLoneWorkers to third party applications
External BLE SOS button Functionality, to further enhance your Lone Workers security level
Mobile Forms Integration, for Managers to send instructions, ask questions to the Lone Workers or even let them fill-in extra information
How much will you save?
So, buying or upgrading to a MyLoneWorkers PRO plan, you will acquire the most integrated Lone Worker management solution available in the market! You can now get a MyLoneWorkers PRO monthly plan by saving up to $71 per month!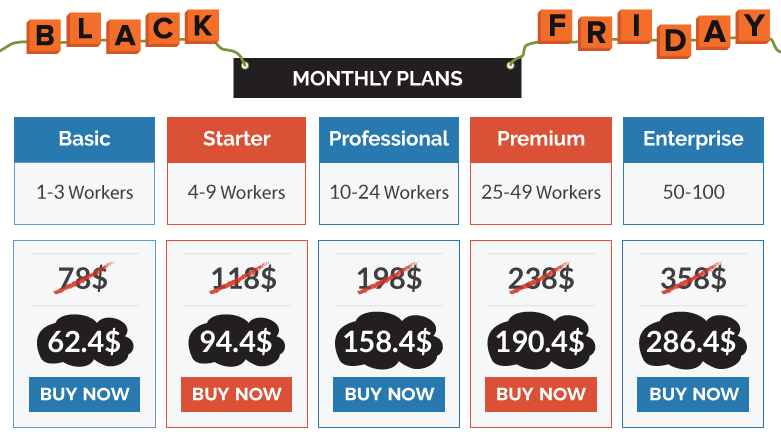 You can also get advantage of our MyLoneWorkers PRO Annual Plans, which have a 10% lifetime discount and add the BLACK FRIDAY offer, so as to benefit from a total 30% discount in any MyLoneWorkers PRO Annual Plan!!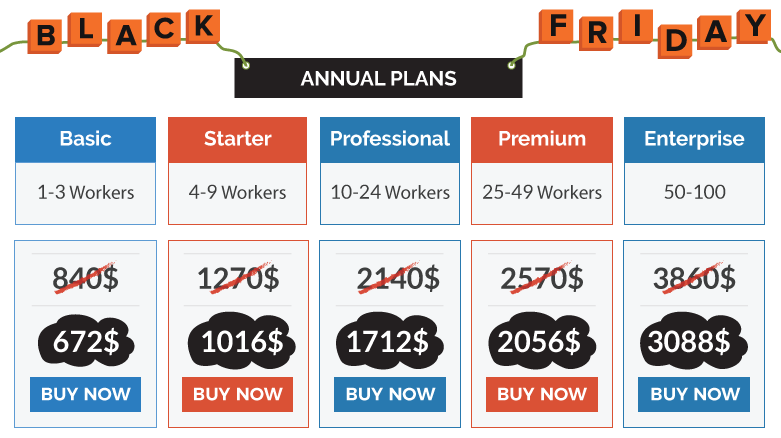 When should you buy?
The offer will be available on Friday 24 November 2017 and will be active just for 3 days, until Sunday 23 November 2017. So, hurry on! It's an one-time chance to get a LIFETIME discount for the full version of MyLoneWorkers software!
How will you buy?
You can get advantage of our unique Black Friday offer, by just choose a MyLoneWorkers plan here: MyLoneWorkers Pricing and choose a MyLoneWorkers PRO monthly or annual plan. Click on "Buy Now" button and use the following coupon code to gain an extra 20% discount!

Then, proceed so as to complete the checkout and you will be subscribed to a MyLoneWorkers PRO plan with a LIFETIME discount!