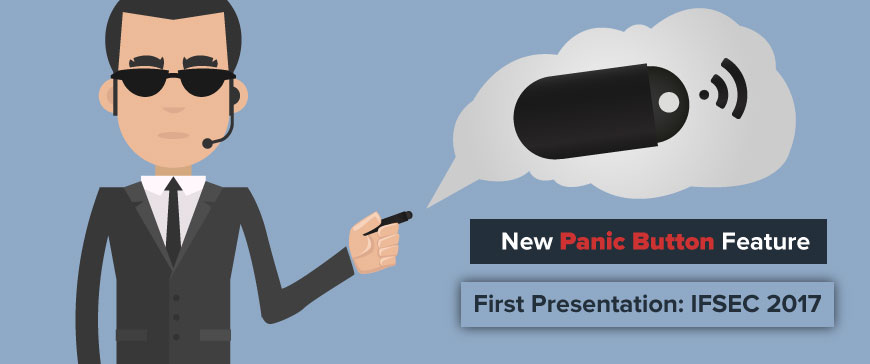 Written by
afoukis
24 May
Category:
Terracom participated at Web Summit 2017, the largest tech conference in the world, held from 7th to the 9th November 2017 at the Feira Internacional de Lisboa and Meo Arena in Lisbon, Portugal.
We are more than happy to exhibit again our innovative Guard & Lone Worker Tour management solutions in IFSEC 2017 exhibition in London (stand H1290).
Our team has insisted on hard work during 2016 & 2017 and managed to evolve significantly regarding software improvements in both development and design fields. 
We are thrilled to announce that for all of you who will be visiting our stand, you will have the unique opportunity to see the first global presentation of our new external panic button!
Driven by our valued customers' requests, we have worked to incorporate an external panic button that the Guards or Lone Workers will carry along, to further enhance their protection:
when pressed, the system will instantly trigger SOS alerts such as to inform the Monitoring Center of the urgent situation to take action!
Further to the external panic button, this year the main focus will be on the PRO versions of QR-Patrol and MyLoneWorkers systems; 
PRO version includes numerous unique features to benefit from, in addition to the QR-Patrol/ MyLoneWorker system!
- MARS (mobile application for remote management of your Guards even while you are out of the office!),
- QR-PTT( Push To Talk" over IP mobile application oriented to help guards & lone workers communicate instantly orally or via text messages within the app),
- a new MANDOWN compatible with wearables, and
- an API (for connecting with 3rd party systems);
So don't miss the unique chance to come meet us in Stand H1290 and prepare to be amazed!
Regards,
MyLoneWorkers team