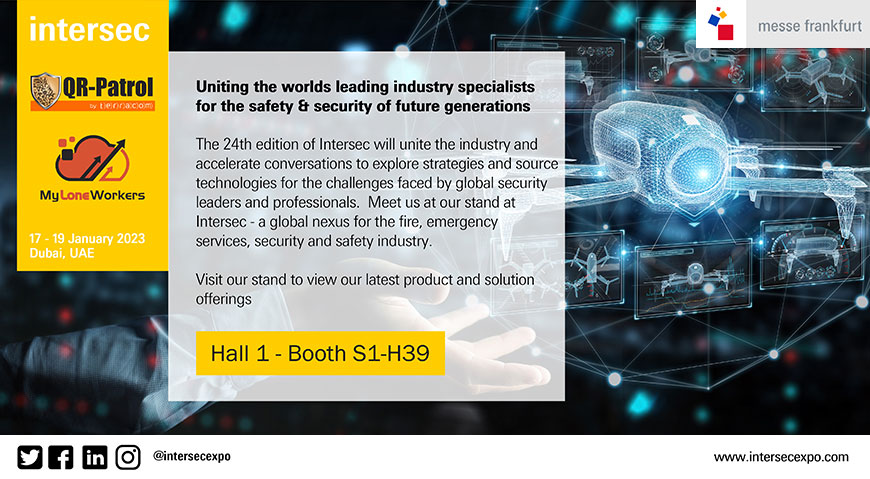 Written by
blignos
07 Dec
Category:
Intersec Middle East is the leading security, safety and fire protection event in the region for security professionals looking for the latest innovations. This year, MyLoneWorkers and QR-Patrol take part with the aim of introducing to attendees their comprehensive real-time safety and security solutions. With its operations automation, transparency and accountability advantages, our systems can help ensure that your business operations run smoothly while keeping your team safe.
At Intersec Middle East 2023, MyLoneWorkers and QR-Patrol will be showcasing their newest features that can help enhance workplace safety for lone workers throughout the region and beyond. These include real-time tracking, geo-fencing, push-to-talk communication, and more. Their solutions allow businesses to monitor workers in real-time using GPS technology, receive instant alerts when any security breach occurs, as well as offering detailed reports on performance and progress. This helps ensure that operations run smoothly while the staff is kept safe at all times.
Attending events like Intersec Middle East is important for us at MyLoneWorkers and QR-Patrol as it provides opportunities to engage face-to-face with clients from around the world who are looking for ways to improve workplace safety for lone workers. By attending this event, we will be able to showcase our innovative solutions which can help companies protect their team members no matter where they go or what they do.
We look forward to participating in Intersec Middle East 17-19 of January 2023! If you're attending the event make sure you drop by our booth so we can discuss how our advanced safety solutions can help secure your business operations!
Find us at Sheikh Saeed Hall 1, Booth S1-H39 at Dubai World Trade Centre.